29 Sep 2012 - 09:30
Memphis, TN 38138
SATURDAY, September 29, 2012
 9:30 am – 6 pm
The cost is $250 for all for the full day of work.
This is a day for adult actors and experienced teens.
Risa is a true artist who understands actors, how to communicate with actors, and how to direct actors to do their best work.  She simplifies all of "the noise" and makes the work accessible and clear.  Risa teaches actors how to reclaim their power, and how to have the freedom and permission to own every moment in the audition room.  I run to her class when I need a creative reboot.  And be it through the wisdom she imparts or the passion she infuses, she never fails to give the tonic that I need to recharge!  Take her class, you won't be sorry you did! 

– Austin Highsmith, LA working actor, Dolphin's Tale

Thank-you for a wonderful day!  It was everything I hoped for and more.  You are such a beautifully generous teacher and leader, and somebody who helped clarify what my job is in that room and how to bring myself to it fully.  Thank-you, Thank-you, Thank-you.

 – David Reale, Toronto working actor (after our NY June 2012 Master Class)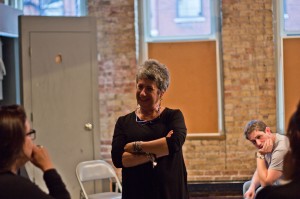 The Master Class is a full intensive day of work with a group of 16-18 actors, all professionals. We work as a group, and I work with everyone one-on-one in the group context. It's a comprehensive, collective experience and that's always incredibly valuable. While I address auditioning, the focus of the day is always on interpreting the text, making the best and boldest choices for the scene and the character, connecting with the other character(s), staying truthful, authentic, and in the moment… in your preparation and right there in the room. I work with you so that you can "own the room" and demystify the entire audition experience. In addition the work we do reminds us of the fundamentals that strengthen, deepen and lift our work to higher places.
I will send "sides" for you to prepare a couple of days before the workshop after you answer some basic questions that will help me get to know you a little better. Along with reviewing your headshot, resume and any reels/websites you have to share.
For more info on the Master Class check out this link on the site: For Actors
Signing up for the class is pretty easy: FOR NOW, PLEASE CONTACT COREY PARKER in MEMPHIS AT: coreyparker11@gmail.com
Here is a further way to sign up but first CONTACT COREY!
Fill out and submit the short initial Registration Form below the map in the comment box – with short answers to the following few questions.
You'll then get an email confirmation, followed by an "acceptance" email with a link to make your payment via PayPal: $250 — and at that time there will be: A longer QUESTIONNAIRE to fill out and submit along with your headshot/resume/reel/clips/ website. (If you don't have all of these that's okay; send what you do have.)
Email Risa at: Risa@risabg.com for more information or questions.
To register NOW – please answer these few questions/instructions in the comment box of the form down below.      (If you're a returning actor, please do this as well.)
1. How did you hear about the class?
2. How many years have you been working as an actor? (there is no right answer)
3. Include your website/reel/links
4. Anything else you want to briefly include. There will be a longer Questionnaire to fill out once approved.
PLEASE put Risa@risabg.com into your address book to avoid correspondence ending up in your spam or junk box. Keep our communication going!
Cancellation Policy:
Cancellation up to 10 days prior to the workshop: You receive a full refund of the fee.
Within  4 – 9  days prior to the workshop: You receive a 50% refund.  
Within 3 days prior to the workshop: No refund. An attempt to reschedule or substitute with a private in-person or Skype session will be made to occur within 1 year of the original workshop date. 
Register using the form below (only if there is one):