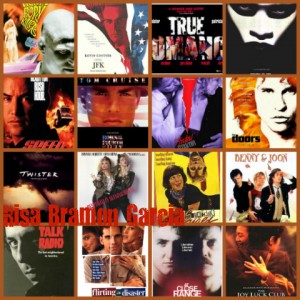 Risa has cast over 65 feature films including Desperately Seeking Susan, Wall Street, Something Wild, Angel Heart, Fatal Attraction, Born on the Fourth of July, Talk Radio, JFK, Sneakers, The Joy Luck Club, True Romance, Speed, How To Make An American Quilt, Dead Presidents, Twister, Benny and Joon, and Flirting With Disaster.
She has cast numerous television shows and pilots, including Roseanne, CSI:NY, the Universal/NBC series, The Cape, A Gifted Man for CBS, Rewind for Syfy, and is currently casting Masters of Sex for Showtime/Sony and Timberman-Beverly.
In her long and successful collaboration with Oliver Stone, Risa served as a Producer on Heaven and Earth and Natural Born Killers, movies she also cast.
Risa started casting in the NY Theatre, working for over 10 years at the Ensemble Studio Theatre as a casting director, producer and director. From her expertise in this arena she and her partner, Billy Hopkins, took their first step into feature film casting with Desperately Seeking Susan. They made an instant name for themselves as the team who tapped the hottest up and coming talent. They worked together for several years casting such classics as Something Wild, Angel Heart, Fatal Attraction, At Close Range and True Romance. They worked closely with Oliver Stone on numerous films, including Wall Street, Born on the Fourth of July, Talk Radio, JFK, The Doors, Heaven and Earth, and Natural Born Killers.
Risa's worked with a host of renowned directors and producers, including Steven Frears, Jonathan Demme, Adrian Lyne, Alan Parker, Tony Scott, Phil Robinson, The Hughes Brothers, Kathryn Bigelow, Steve Kloves, Jan de Bont, David O. Russell, John Madden, Norman Jewison, John Huston, Robert Redford, Jerry Bruckheimer, Mike Newell, Ridley & Tony Scott, Walter Parkes, Kathy Kennedy, Brian Grazer and Ron Howard, Sherry Lansing, Stanley Jaffe, Harvey Weinstein, Sydney Pollack and Steven Spielberg, to name a few.
As a director herself, Risa's feature films include casting Ben Affleck, Kate Hudson, Paul Rudd, Dave Chappelle, Courtney Love, Casey Affleck, Christina Ricci, Janeane Garofalo, Martha Plimpton, Guillermo Diaz and Jay Mohr in 200 cigarettes.
Recently she directed The Con Artist (aka The Love Child) in Canada, working with Donald Sutherland, Rossif Sutherland, Rebecca Romijn, Sarah Roemer, Russell Peters, Mary Walsh, and a host of great Canadian actors.
Risa has cast a myriad of actors at very early stages in their careers, including (in no particular order): Daniel Day Lewis, Johnny Depp, Sam Rockwell, Mark Ruffalo, Sandra Bullock, Sean Penn, Kiefer Sutherland, Gwyneth Paltrow, Madonna, Adrien Brody, John Malkovich, Melanie Griffith, Ray Liotta, Meg Ryan, Tim Robbins, Tea Leoni, James Spader, Alec Baldwin, Christian Slater, Ben Stiller, Macaulay Culkin, Aidan Quinn, John Turturro, Stanley Tucci, Joan Allen, Laurie Metcalf, Martha Plimpton, River Phoenix, Ed Harris, Amy Madigan, Frances McDormand, Patricia Arquette, David Strathairn, Johnny Galecki, Juliette Lewis, Kyra Sedgwick, Kevin Bacon, Ving Rhames, Mary Stuart Masterson, Michael Madsen, Val Kilmer, Mercedes Ruehl, Anthony Edwards, Sarah Jessica Parker, Billy Crudup, Liv Tyler, Jennifer Connelly, W.H. Macy, Eriq La Salle, Julianne Moore, Elizabeth Perkins, Michael Rappaport, Alessandra Nivola, Kimberly Elise, Brittany Murphy, Penn Badgley, Hayden Panettiere, Rob Morrow, Donal Logue, Freddy Rodriguez, Chris Tucker, Adam Goldberg, Luke Wilson, Bonnie Hunt, Jane Lynch, Philip Seymour Hoffman, Matt Lillard, Jason Segel, Leslie Mann, Kevin Spacey, Joaquin Phoenix and George Clooney.
You can also download this Bio. Click to Download as PDF.
Here is Risa's Casting Résumé Page. Or Click to Download Resume as PDF.
Contact: Risa@risabg.com Office: 818-755-9500 or Cell: 818-903-2182